We like to feature this exclusive article for the

January DX News by Henryk Kotowski SM0JHF who was on a visit to Sri Lanka recently.

When you read through this well written article with very good photographs you get a great idea of a real Old Timer, the middle generation and the upcoming amateur radio community of Sri Lanka. A thank you to Henryk for a fantastic article.
Lets Meet Nelson, 4S7NE Sri Lanka
Let's Meet Nelson, 4S7NE
While visiting Sri Lanka in December 2014, I met three generations of local Amateur Radio operators. Nelson, 4S7NE, represents the old-school approach to our hobby.
He is 75 years old and frequently on the air, in spite of many basic obstacles. His equipment and antennas are not in good shape, the weather phenomena make things even worse.
It is very humid and stormy there. Nelson lives in a rural area some 30 km (20 miles) NE of Colombo, the capital city.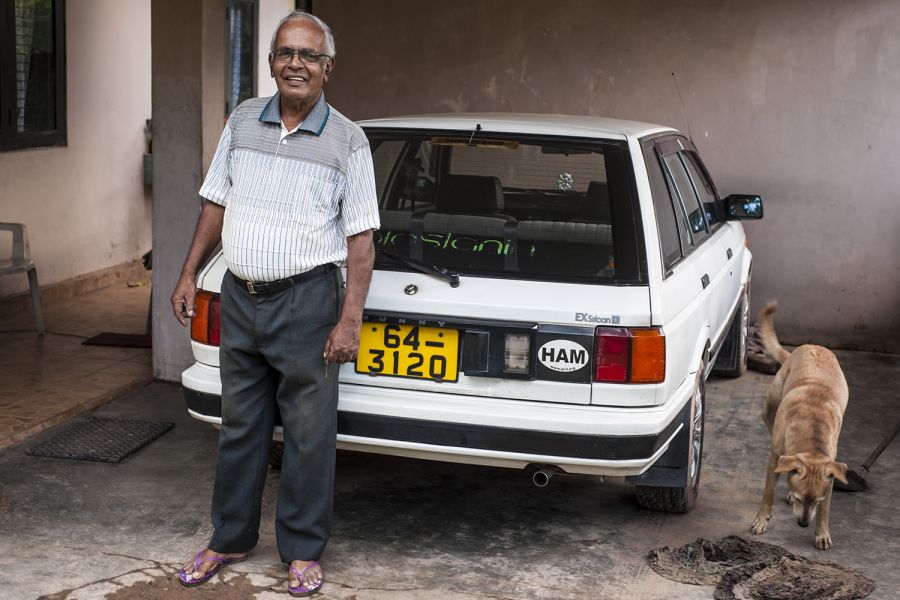 Nelson, 4S7NE, here in front of his house, shows his life-long hobby on the back of his car.
While still a teenager, Nelson was employed at the telecom company, working with radio transmitters and receivers. After a few years, he finally received his amateur wireless permit in 1961 at the age of 21.
The shortwave radio was still a sensitive and strategic technology, associated chiefly with military purposes. There was quite a lot of military surplus equipment in Sri Lanka, then called Ceylon, after WWII. Nelson had a classic HRO receiver and a home-made transmitter. In the middle of 1960s, he built a home-made SSB transmitter, the first such rig in Sri Lanka. In 1982, Nelson had a chance to buy a commercially made amateur transceiver while visiting Japan. It was a Kenwood TS-130, which generated countless QSOs, until it was given away to another local radio enthusiast.
Now, there are two ICOM transceivers in the radio room of 4S7NE. Both of them need, however, be repaired. The IC-756, a gift from visiting British radio friends, has a damaged display, while the older IC-746 was struck by a lightning and is not fully operative.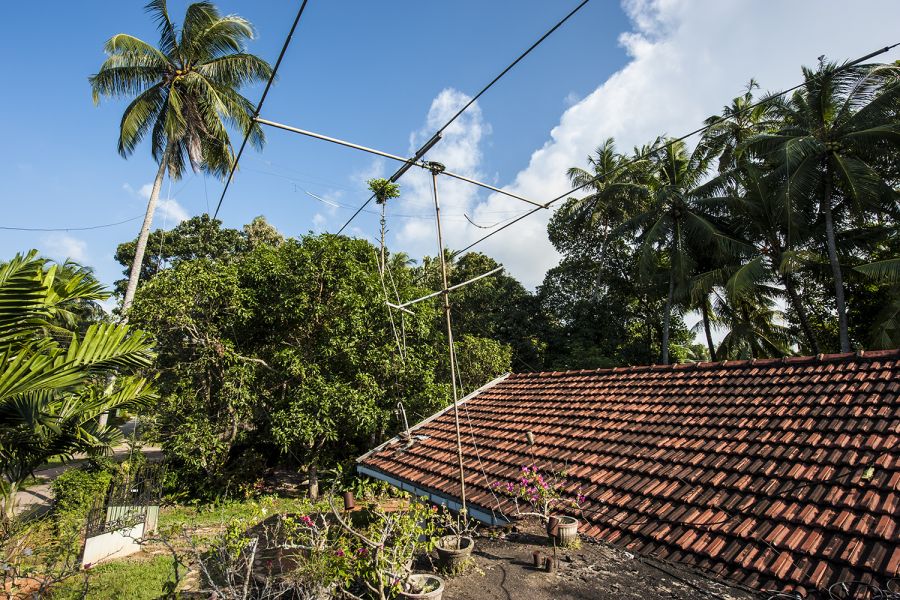 Antennas of 4S7NE are home-made, one directional Yagi and assorted wires among the trees. Nelson has antennas for all bands from 160 to 10 meters.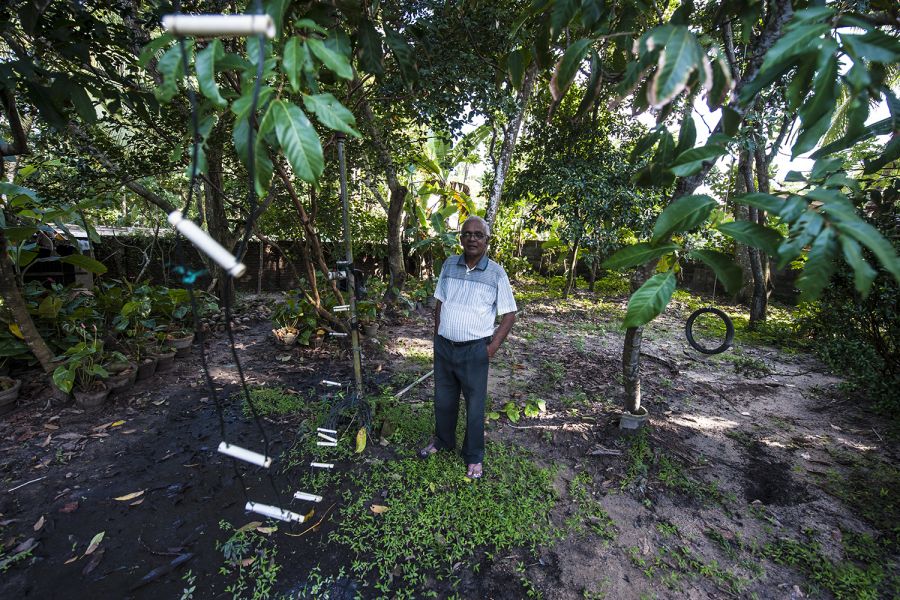 Wire antennas of 4S7NE struggle against the tropical vegetation of Sri Lanka.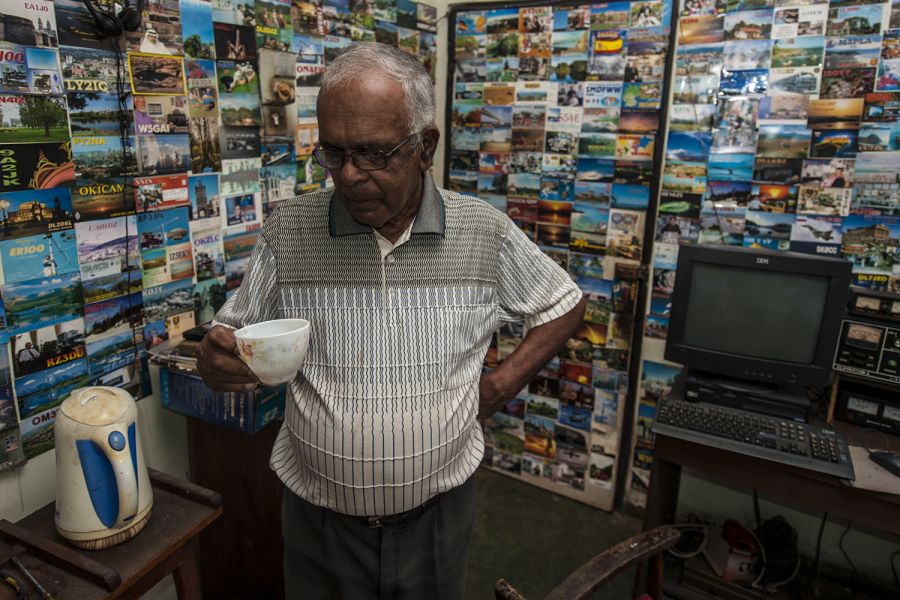 Tea drinking is widespread in Sri Lanka, and of course I was treated to a cup in the QSL-card-wallpapered radio room of 4S7NE. Local tea is considered to be the purest in the world.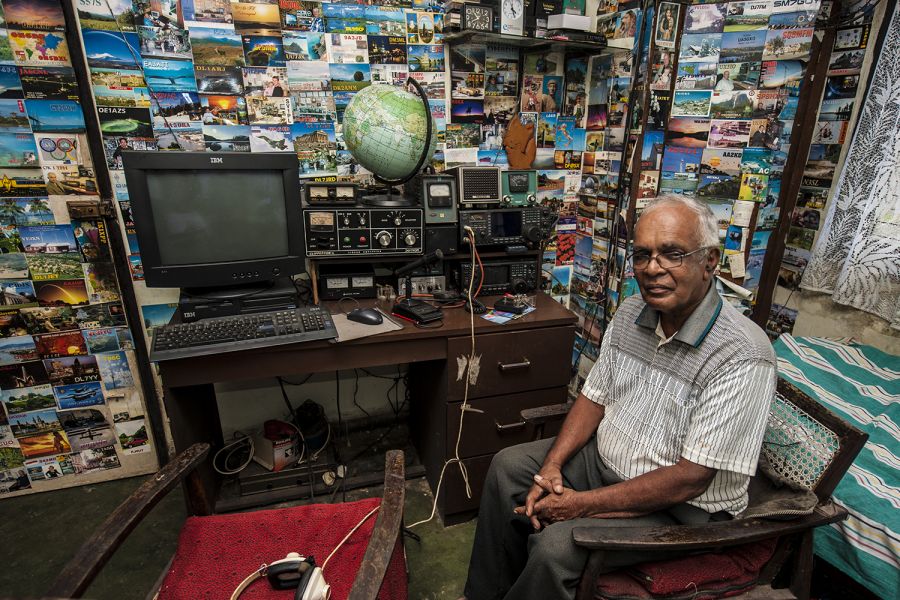 All walls of Nelson's radio shack are decorated with colourful QSL cards from all over the world. There are two clocks on the upper shelf, indicating the local time and presumably UTC. Local time is 5 hours and 30 minutes ahead of Greenwich, or simply +5.30 Z. The antique Dentron amplifier is rarely used, almost exclusively on the 160 meter band.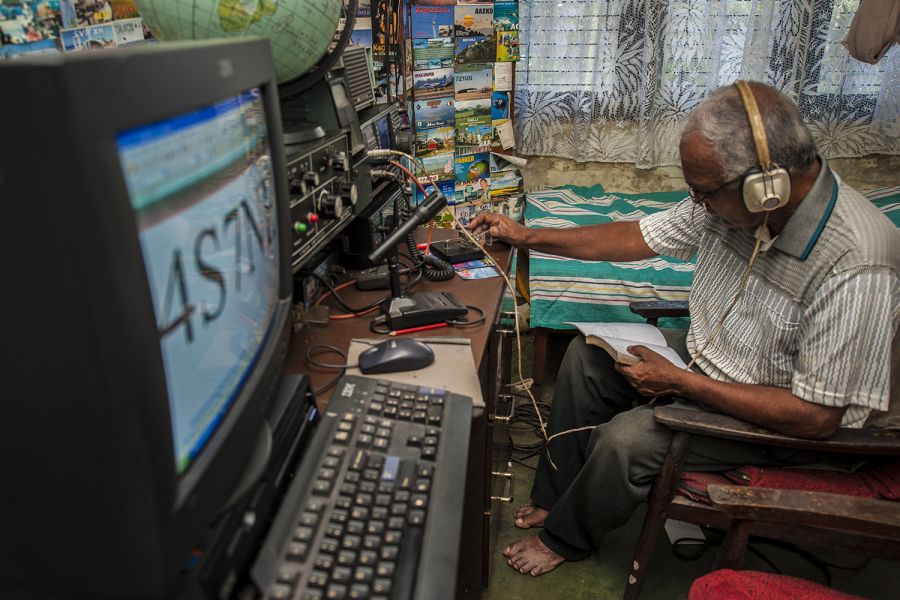 Nelson, 4S7NE, operates
barefoot
as you can see. He likes the old-fashioned way of sending by hand and receiving by ear. Honestly, this is exactly what I myself prefer.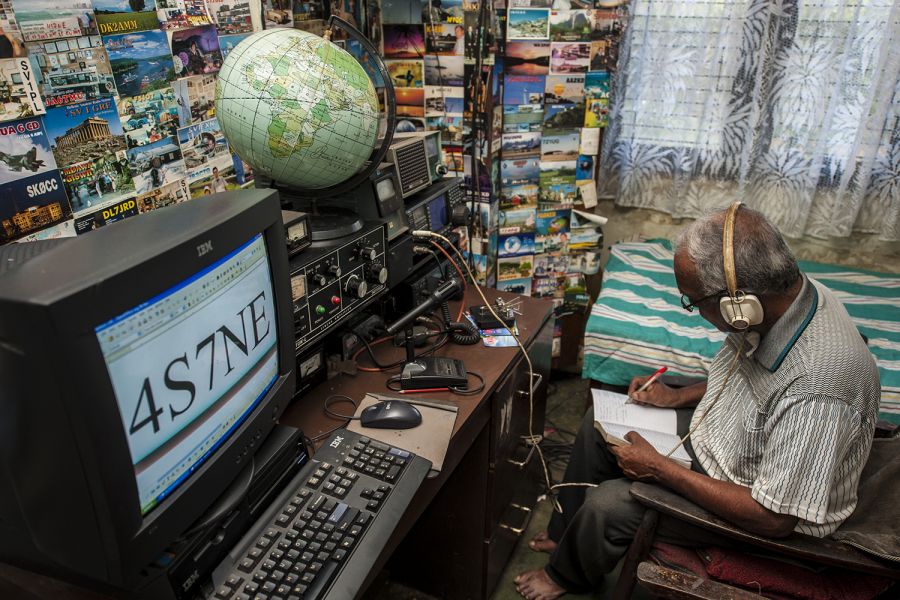 Even though there is a computer in the shack, Nelson logs his contacts by hand in a notebook. It is called
pen and paper logging
.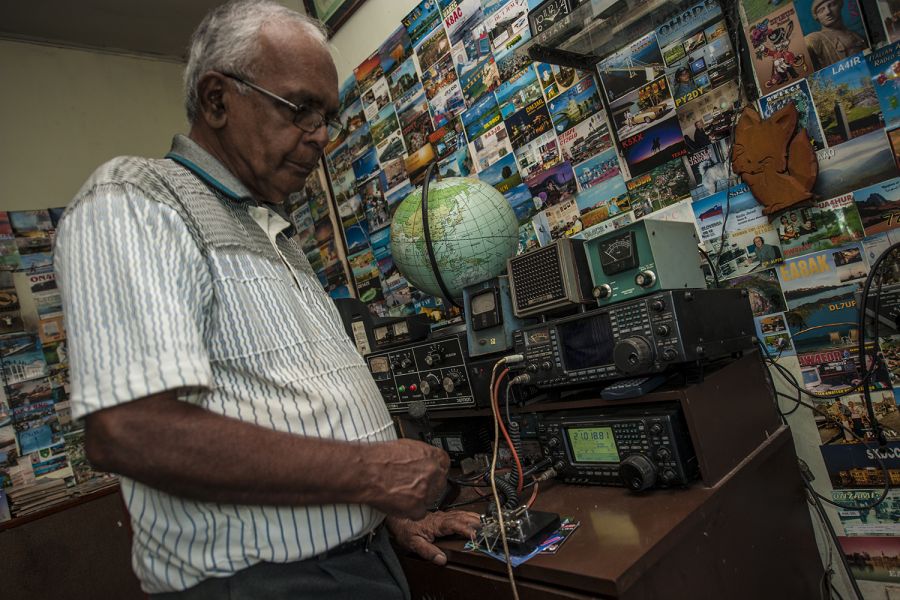 The IC-756 (up) works quite well, except for the dead display. So Nelson checks the frequency on the IC-746 (down), which has a damaged front-end.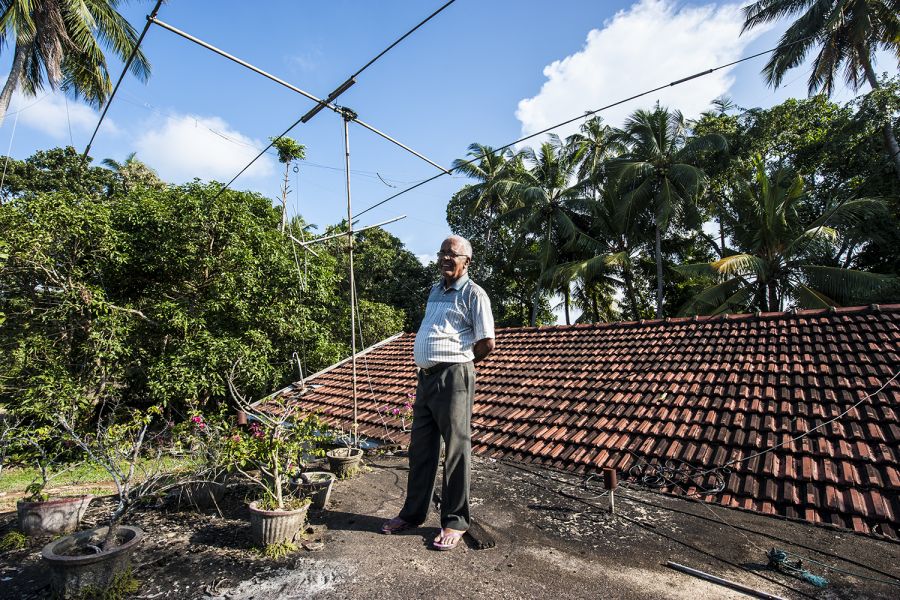 Luckily, there was some sunshine between the clouds and I could persuade Nelson to go on the roof. The supporting pipe is not high, but the advantage is easy access to the radiator for an Old Timer.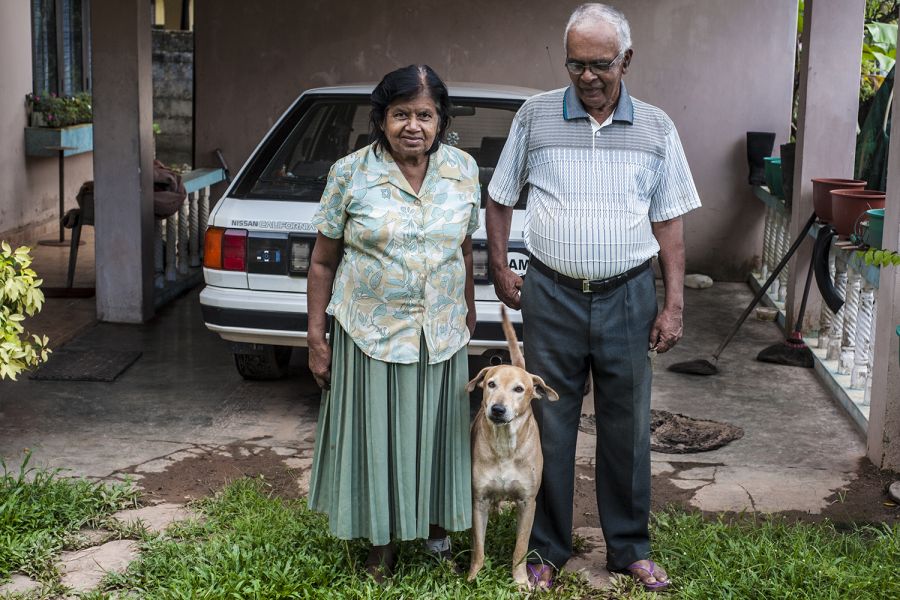 The family picture — Nelson's wife, one of the dogs in the middle, and Nelson himself on the right. Time to say good bye.
I have visited some Amateur Radio operators in poorer countries and have some advice for visitors from developed nations. Try to get in touch with local people who are interested in the hobby and help them. Sometimes it can be a small component, sometimes the know-how, sometimes a helping hand.
Too many costly DXpeditions visit remote places and leave no trace, stir no interest in radio among the locals. Amateur Radio is extremely attractive to people living on islands or remote areas.
Amateur Radio is cheap and reliable as compared with commercial communications. However, learning how to use it is difficult without help. Books or Internet are fine, but practical instructions are priceless. Next time you plan a radio flavoured vacation, or a multi-operator expedition, try to devote some time to the local people, who already are or want to become radio amateurs. I still believe in friendship through Amateur Radio and there is no better way to make friends than to give help when needed.
Bottom line Sri Lanka
The island has a very rich and ancient history. Apart from being the biblical Eden, there are many artefacts giving evidence of powerful and advanced civilisations.
Europeans set up colonies here in the 16th century. First, the Portuguese, later the Dutch and finally the British. In some areas Portuguese surnames are still very common. After WWII the country became independent in 1948, but remained a dominium of Great Britain. Since 1978, the full name of the country is the Democratic Socialist Republic of Sri Lanka with Buddhism as the officially recognized religion.
The present day Radio Society of Sri Lanka — RSSL — was formally created in 1974. However, first attempts to bring radio enthusiasts together took place in 1949.
In 1952, the old prefix VS7 for The British Crown Colony of Ceylon was replaced by 4S7.
At present, there are over 100 members of the society, which is affiliated with the International Amateur Radio Union (Region 3). The HF beacon station 4S7B is operative in the NCDXF network and located near Colombo. There are two fixed VHF repeaters at high elevation, and the Society recently received a portable VHF repeater from a Swiss friend, to be used in emergency situations.
A Visit with Kamal, 4S7AB in Sri Lanka
Kamal, 4S7AB, is probably the most technically advanced Amateur Radio operator in Sri Lanka. He has also the best antenna farm and a very modern and well-equipped radio shack. Kamal lives some 50 km (about 30 miles) from the capital city Colombo, north-east inland direction. He attended schools in Colombo where he became interested in radio and received his licence in 1992 at the age of 19. Now, when he is 41, and very soon 42 years old his radio activity is slow as the family is priority number one. Kamal got married 5 years ago and has a daughter and a son.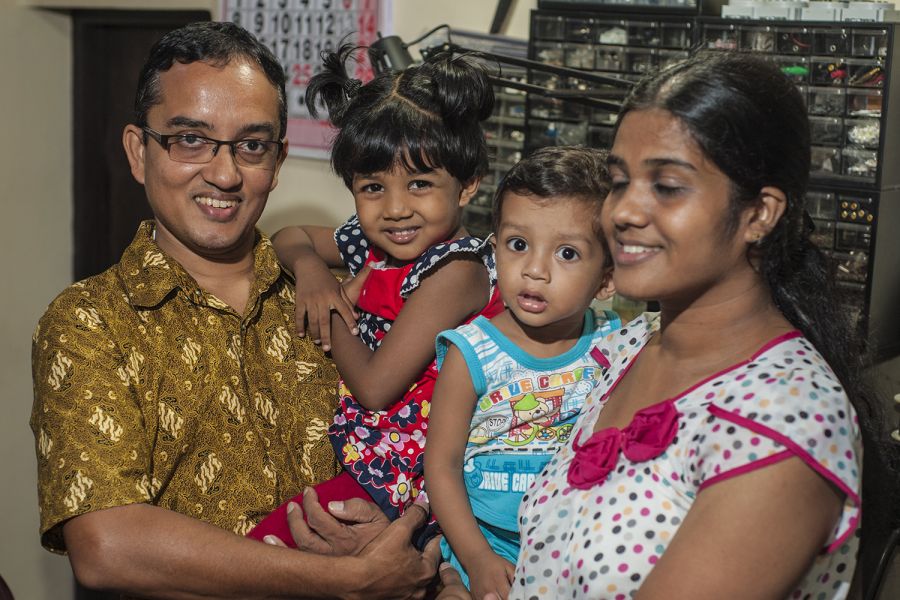 Nevertheless, he keeps his station in trim and when I dropped in to his house, I could easily make a few contacts in the 10-Meter Contest. The main antenna of 4S7AB is a 4-element StepIR beam. Before he acquired this commercial radiator, he had built his own Yagi and Quad antennas. I think all his antenna projects are documented on his website:
http://www.qsl.net/4S7AB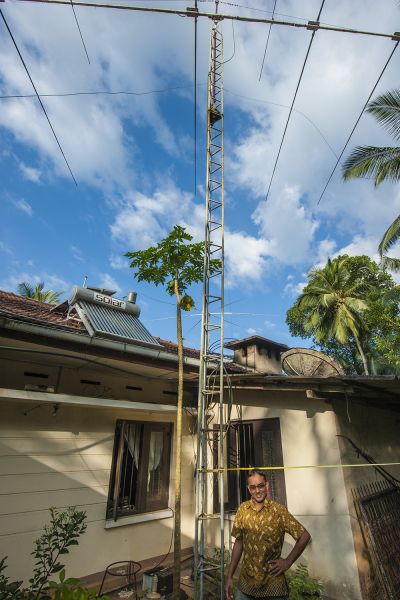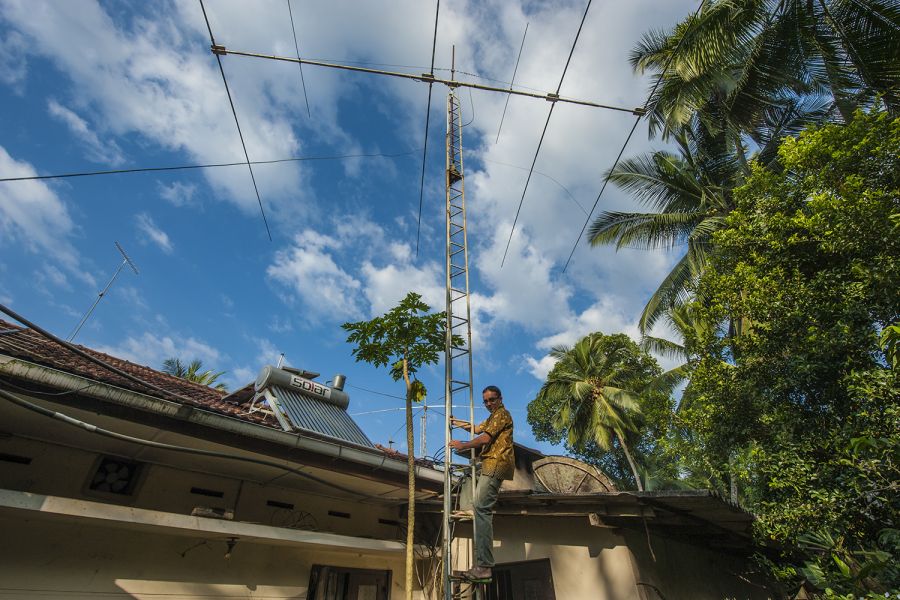 Kamal easily climbs the towers. In the distance, his second directional antenna is visible — a home-made HexBeam for 7 and 10 MHz.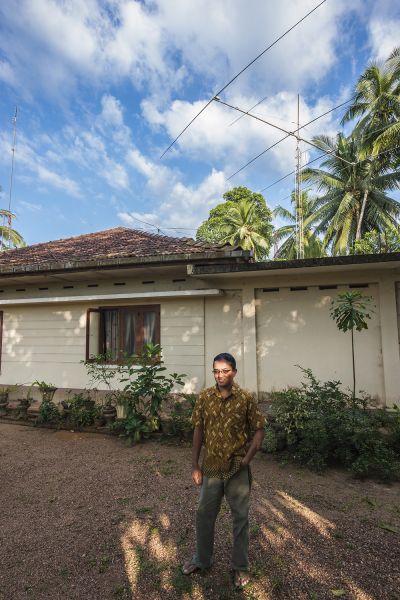 The family ties are close in Sri Lanka. Kamal in front of the house where he lives with his parents.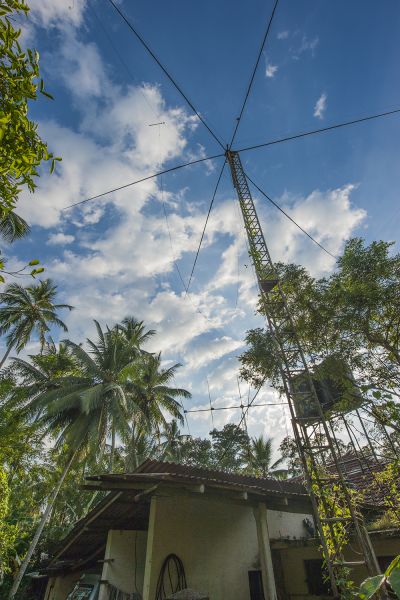 The backside of the house where the tower supporting the HexBeam is placed.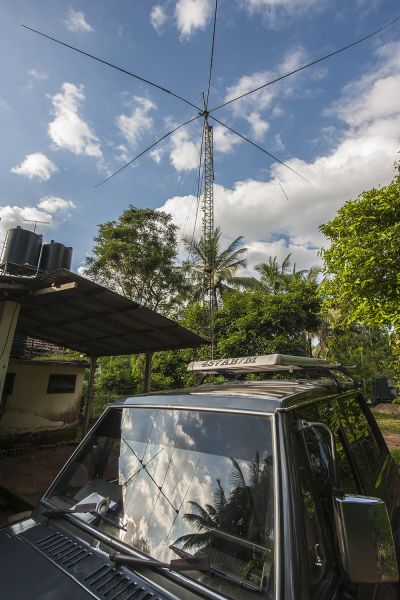 Kamal was one of the pioneers of mobile operation in Sri Lanka. His 4WD car is fitted with installations for HF and VHF equipment. Since the 2004 Tsunami, radio amateurs in this region are aware of the need of mobility and back-up power for their rigs. Kamal was actively taking part in emergency communication in the aftermath of the disaster, which killed more than 35 thousand people in Sri Lanka alone.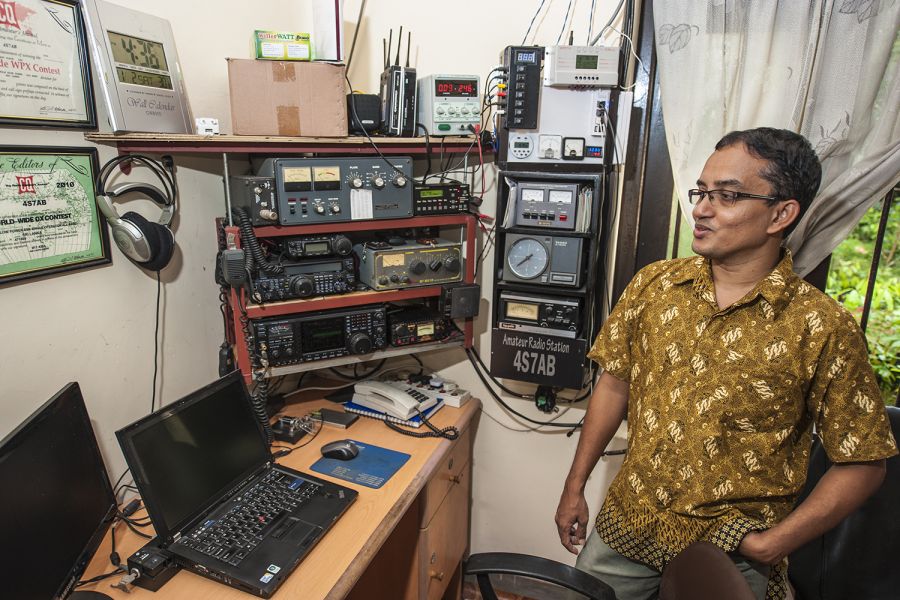 The neat and well-arranged radio shack is powered by solar energy. The batteries are kept outside and the solar panels are on the roof. Kamal uses computer logging, but does not upload his log to the LoTW. He likes contests, but is not a fanatic. Some contest awards are visible on the wall.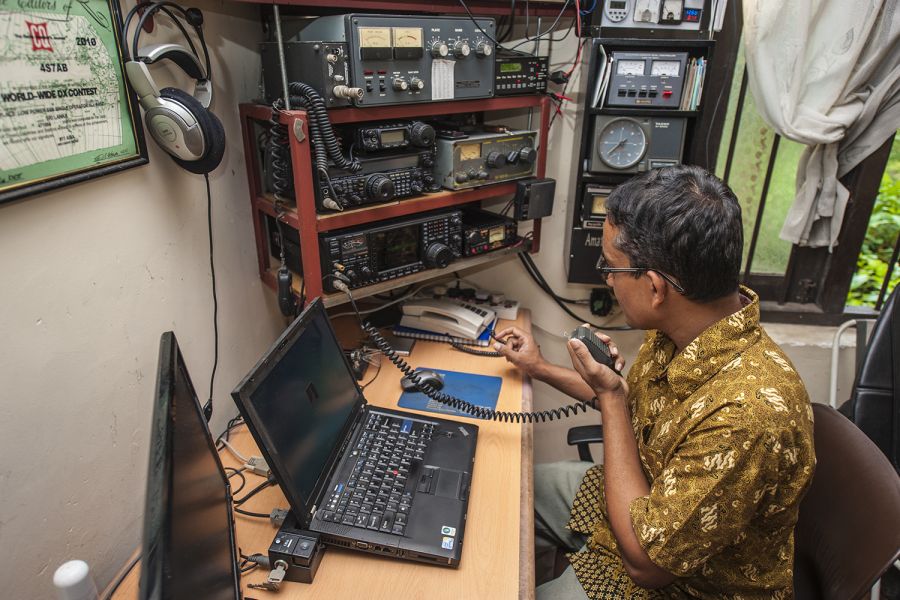 Kamal likes all modes — SSB, CW and Digital. Here he makes a few SSB contest exchanges in the 10-Meter Contest.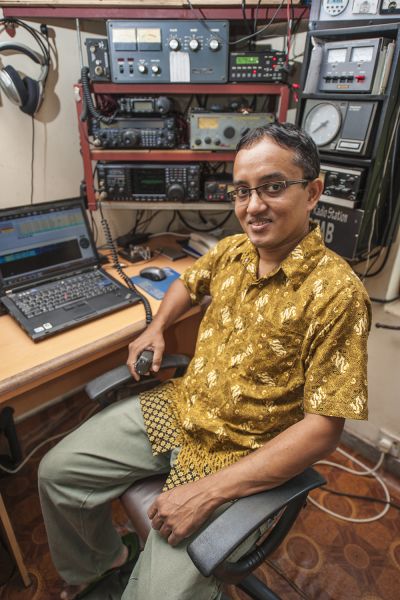 Kamal seems to be comfortable and relaxed in his radio shack. However, these moments are rare nowadays. Apart from wife and children, his newly started business needs much attention. Kamal is manufacturing electronic accessories. One of them is well-suited for travelling DX-peditioneers and Amateur Radio operators in developing countries where the power lines are susceptible to lightning and other surges. Check the webpage:
http://www.bravosl.com
and see the Surge Protector.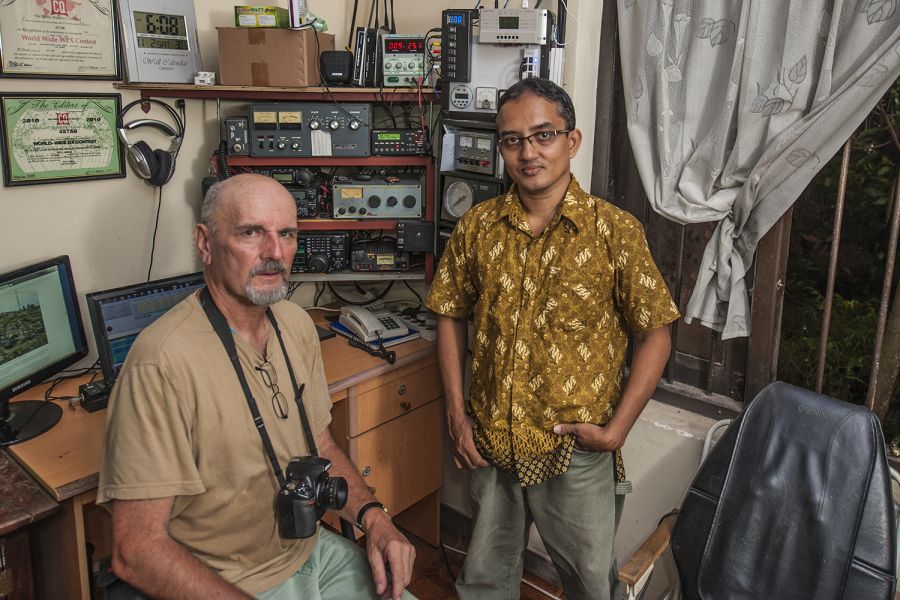 The author (sitting) and Kamal, 4S7AB, in the shack. I met Kamal in Sweden some 14 years ago when he came for training in the field of electronics. He visited some other countries then and learned very much, he admits. Later got employed by a large US company and travelled the world on duty. While in Texas he acquired an FCC licence and the call sign KA5MAL.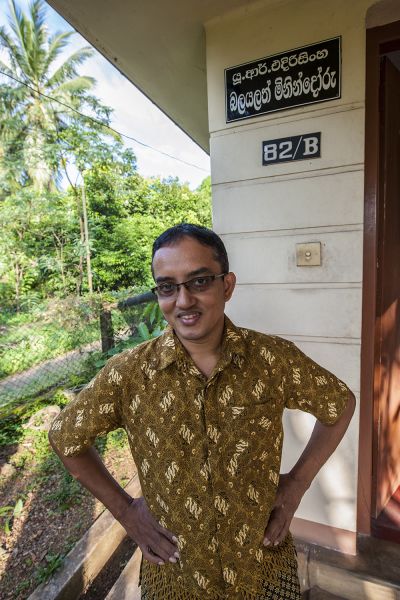 At the entrance to his home. Kamal plans to arrange a guest room for visiting Amateur Radio operators who wish to rent accommodation with access to a good radio shack. If you are thinking about visiting Sri Lanka and be on the air, contact Kamal right now.
Bottom line about Sri Lanka
Some 100 years ago Sri Lanka, which means
The Holy Island
, was considered the Paradise on Earth. However, today it is far from paradise. The Western Province, around Colombo, is overpopulated and very neglected. Heaps of garbage are present everywhere, along the roads, train lines and the beaches. The people are more friendly and tolerant than in many other Asian countries. However, rich or poor, they litter everywhere, showing no respect for their own environment. Burning garbage in the evening is a popular pastime so even if you are in a five-star resort, you still won't get away from the odour.
The nature is beautiful, but the civilisation brings congestion, exhaust fumes, filth in the streets. The politicians and clergymen, hiding in their gated sanctuaries, do not care very much about the quality of life of the common people. Sri Lanka is no longer a paradise.
The All-Ham Family in Sri Lanka 4S6ARW 4S6WAS 4S6YRW
It is a true joy to see new enthusiasts of Amateur Radio, the only hobby that is both educative for the individual and beneficial for the society, global and non-profit, technically advanced and enhancing human cooperation, egalitarian and at the same time select. In order to exist and to grow, this century-old pastime needs suitable environment.
Some populous areas have no radio ham activity at all, simply because they lack the essential factors.
Sri Lanka is exceptional in this respect. In spite of being a relatively poor country, with high population density and the agriculture being the main income, Amateur Radio thrives here.
While visiting
The Island
in December 2014, I met a few local radio amateurs.
The town Negombo, some 30 km north of the capital Colombo, is a bustling place with shops, temples, fishing harbour and many hotels along the long beach.
Staying in one of the Negombo hotels, I discovered that there is a whole radio amateur family in town. Needless to say, I paid them a visit one Saturday when everybody was at home.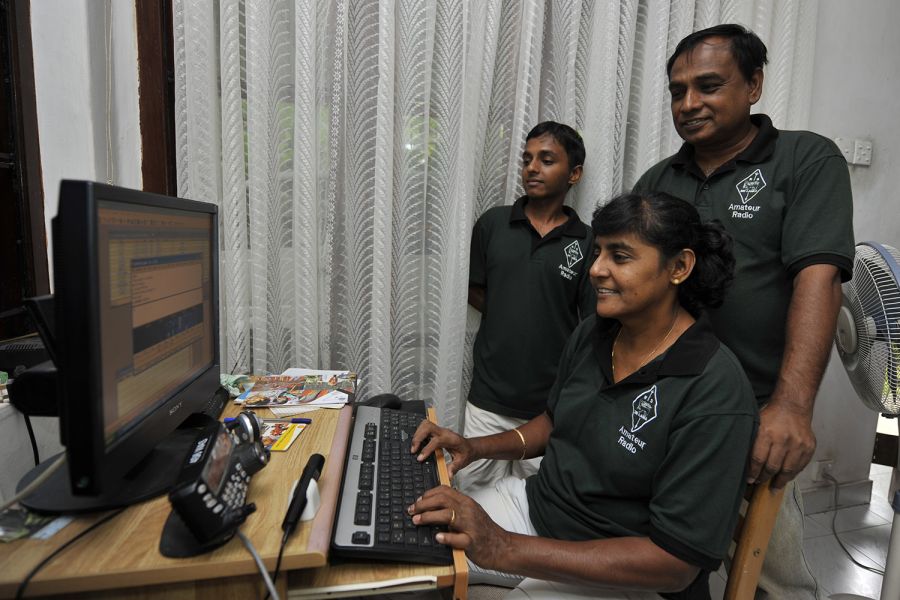 The Wickramasinghe family in the radio corner of their house in Negombo. Sitting: Rajini, 4S6ARW, makes a digital QSO on the 10-meter band, while Senarath, 4S6WAS, stands behind her. Their son, Reshan, 4S6YRW, is supervising his mother in action.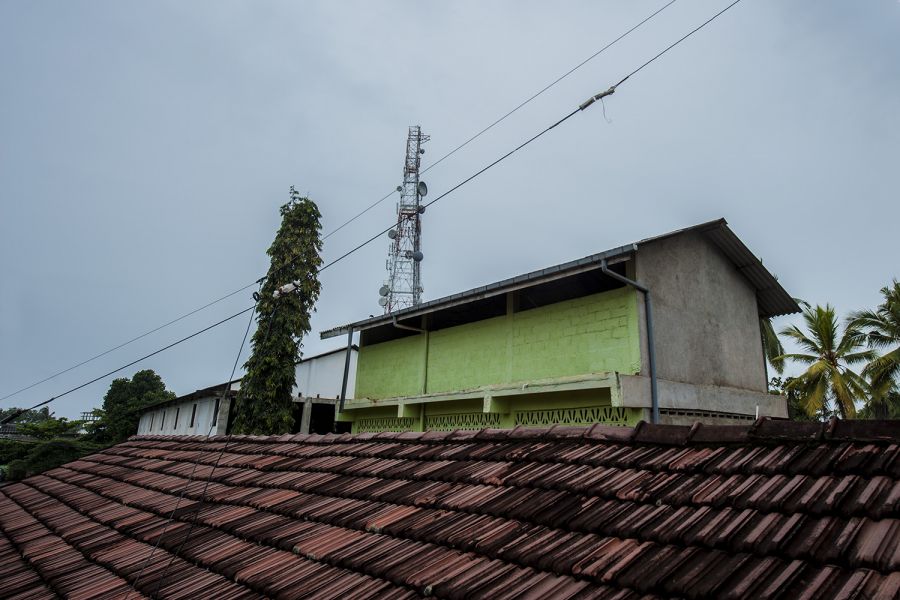 The QTH is close to the high telecommunications tower of Sri Lanka Telecom in Negombo. Assorted dipoles work on several HF bands and there is no interference with the telecom emissions, but TV reception in the neighbourhood is suffering.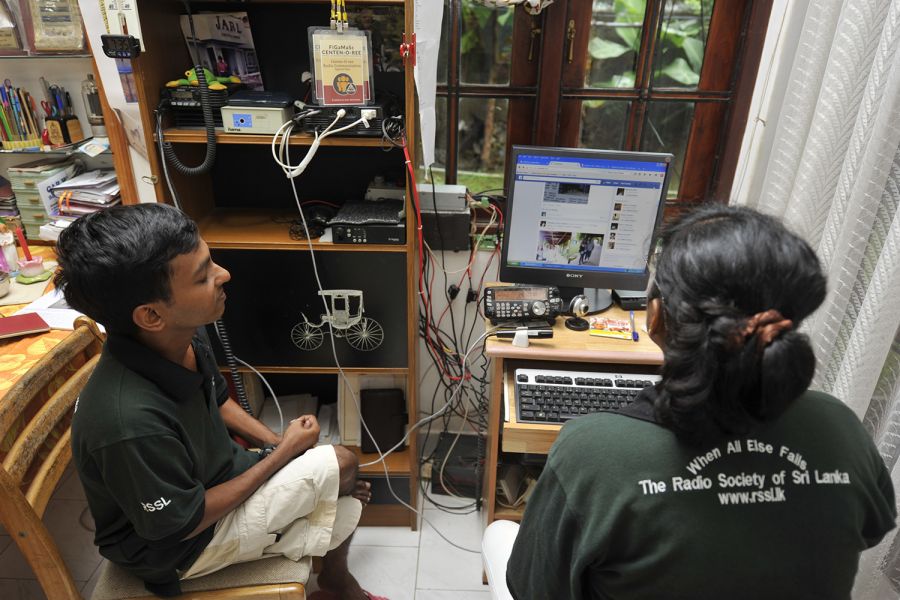 Left: Reshan, 4S6YRW, is at hand helping his mother Rajini, 4S6ARW, at the computer. The radio corner has both HF and VHF radios, computer and Internet modem, as well as obligatory back-up battery on the floor. The text on the back of the polo shirt is When All Else Fails, the motto of The Radio Society of Sri Lanka.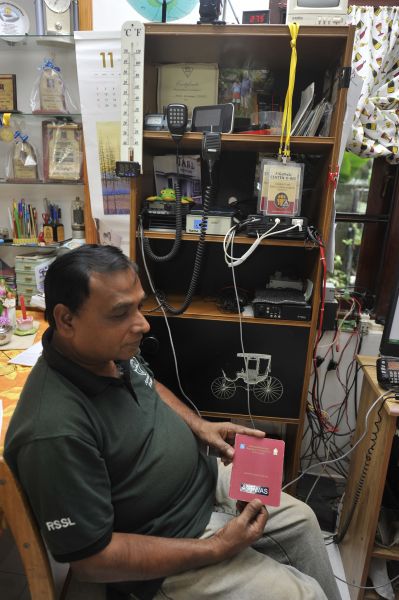 Senarath, 4S6WAS, shows his Amateur Radio Licence. He received it in 2011 after attending classes organised by the Radio Society of Sri Lanka. His interest in our hobby was initiated by a radio broadcast about radio amateurs providing emergency communication in the aftermath of the 2004 Tsunami, which devastated parts of the island.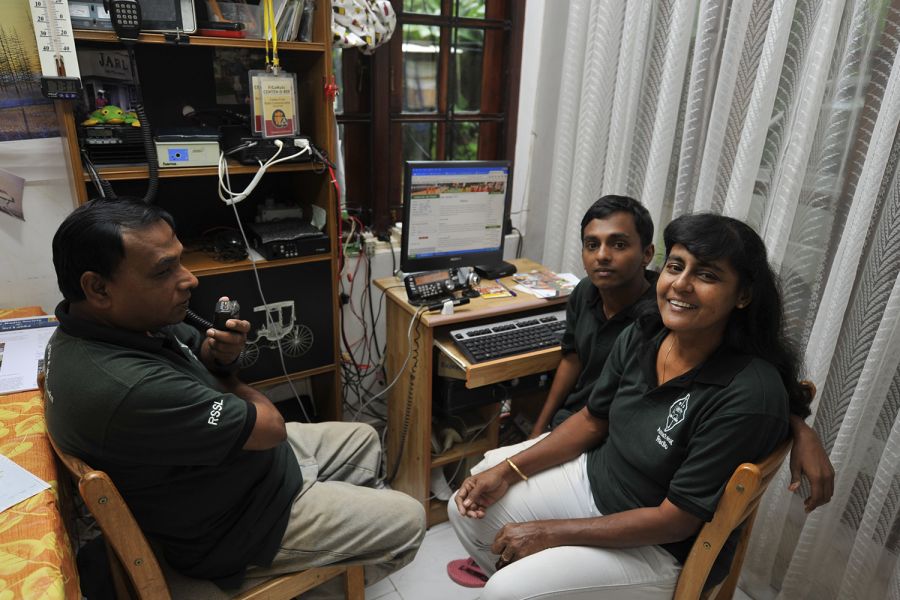 Senarath, 4S6WAS, makes a call over one of the 144 MHz repeaters which are in use on Sri Lanka.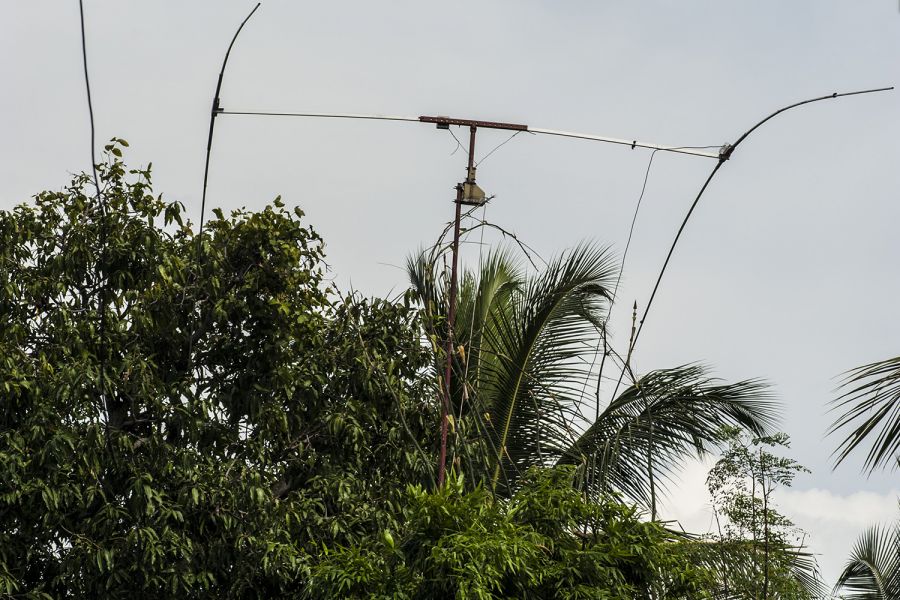 The home-made rotary beam antenna for 14 MHz is hardly visible in the tropical vegetation.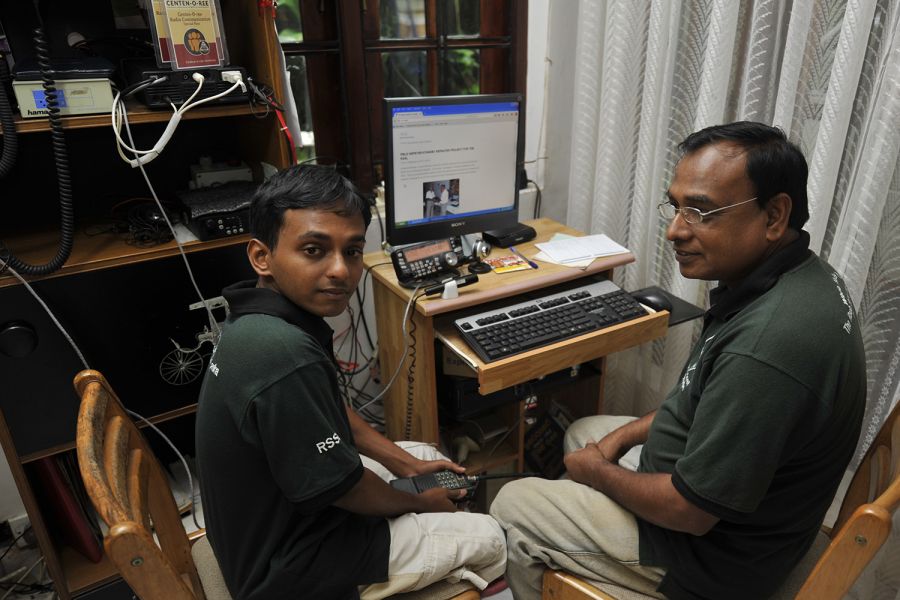 Reshan, 4S6YRW, on the left, holds a 144 MHz handheld transceiver. He received his Novice Licence in 2012 when he was 18 years old and is the youngest member of the Radio Society of Sri Lanka holding a licence. After one year of being Novice, Reshan upgraded his licence to General.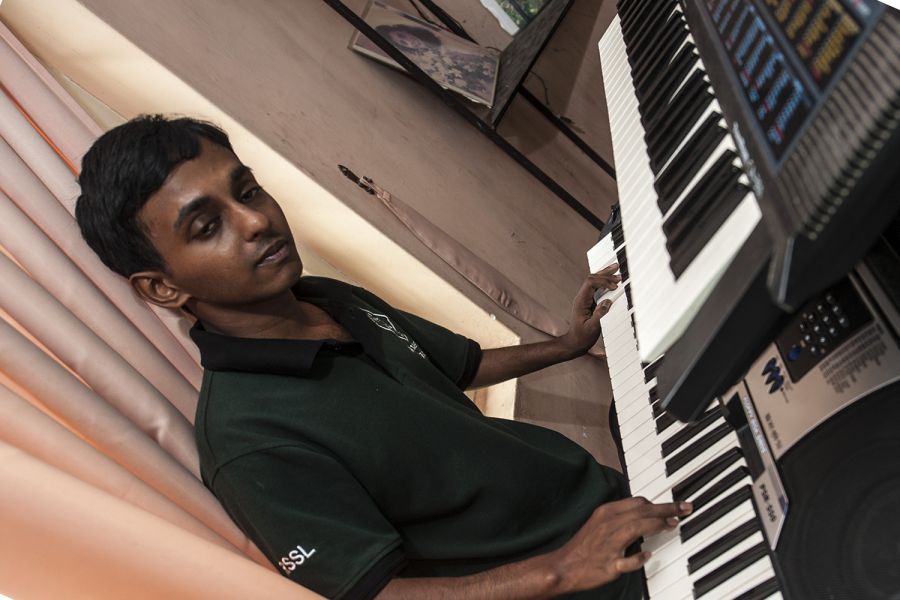 Reshan, 4S6YRW, has other interests beside radio. He is good at computers and plays musical instruments. This makes him suitable for learning the telegraphy, once he gets motivation and finds a tutor.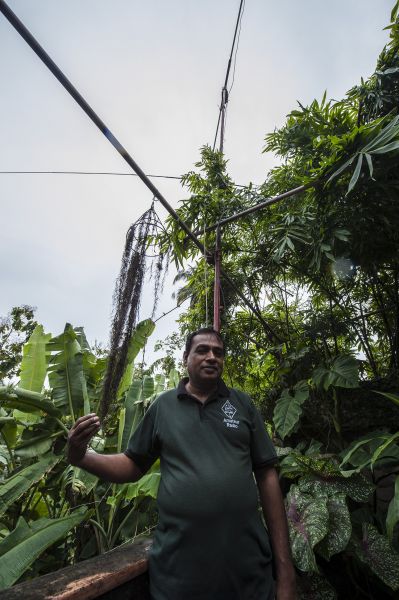 Senarath, 4S6WAS, under his home-made rotary antenna on the roof.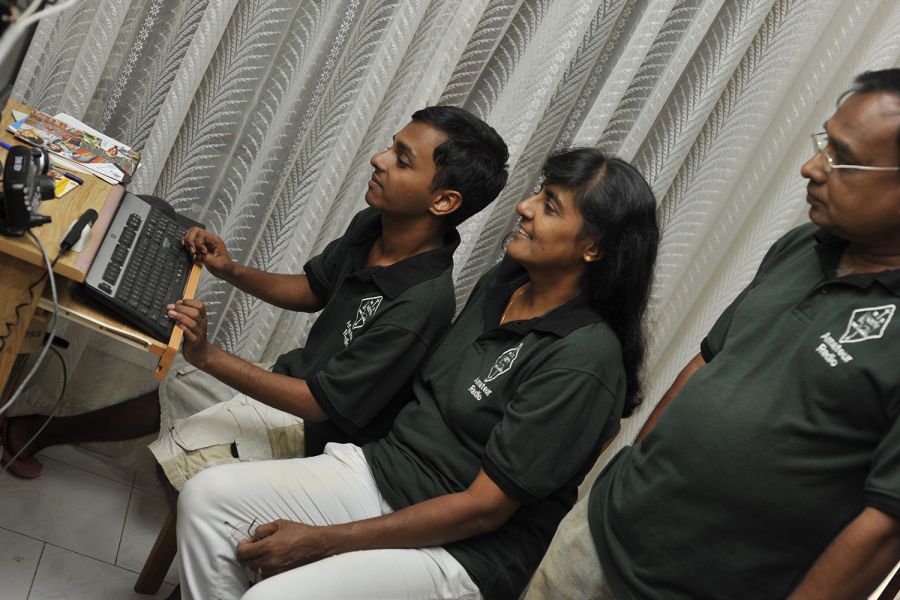 The all-ham family at the radio. They are active mainly in digital modes and SSB, HF and 144 MHz. Reshan, 4S6YRW, attends a local college, while his mother works at a local school. Senarath, 4S6WAS, works as electrical engineer in Colombo, and is also a Council Member at the RSSL.
Amateur Radio is ideally suited for developing countries where the infrastructure is weak, their geographical locations make them vulnerable to natural disasters, while the overall level of education is improving. The literacy in Sri Lanka is over 90 percent, there are many bright people, but without national industry, they often work abroad. The national society RSSL promotes our hobby as much as they can. There are still some out-of-date bureaucratic obstructions in use at the licensing office.
Amateur Radio is no threat to the defence of a country in the era of satellites, cell phones and the Internet.
On the contrary, early practical contact with radio communication can provide better trained personnel for the state.
Historically, Sri Lanka has a long tradition of radio as the first broadcasting radio station, Radio Ceylon, was set up in 1923 and it is still in operation, presently as The Sri Lanka Broadcasting Corporation. Modern means of electronic communication are well developed in Sri Lanka and let's hope that Amateur Radio regulations will be soon updated. Visiting radio amateurs can get temporary permits, but the process is tedious and time-consuming. Visitors usually contribute to the technical advancement and progress for local radio amateurs.
courtesy of